A Dose of November Reality...And Snow
Published: Nov. 9, 2020 at 2:34 PM CST
|
Updated: Nov. 10, 2020 at 3:57 PM CST
NORTH PLATTE, Neb. (KNOP) - After the warmest start to November on record in North Platte, we've been hit with a hard dose of November reality on Monday as temperatures nosedived as a strong cold front pushed through western Nebraska and we're not done yet as areas of light snow are expected before more seasonal November conditions are expected for the remainder of the week.
On the backside of a low pressure system spinning out of Colorado and through Kansas, areas of light snow are expected to develop across central and western Nebraska into early on Tuesday. Snowfall amounts are expected to stay fairly light, but most of the coverage area could end up with an inch or two of snow by the time snow comes to an end Tuesday morning. The morning commute on Tuesday could be a bit slippery, so you may need to give yourself a little extra time as you head out the door on Tuesday.
Temperatures wise, it'll be a cold start to Tuesday with morning temperatures falling to the teens and low to mid 20s across western Nebraska.
As snow tapers off on Tuesday morning, we should see clearing skies through the morning and into Tuesday afternoon with mainly sunny skies expected by the afternoon hours. With a little more sunshine, temperatures should rebound a bit for our Tuesday with highs in the low to mid 40s with wind chills likely sitting in the mid to upper 30s by the afternoon.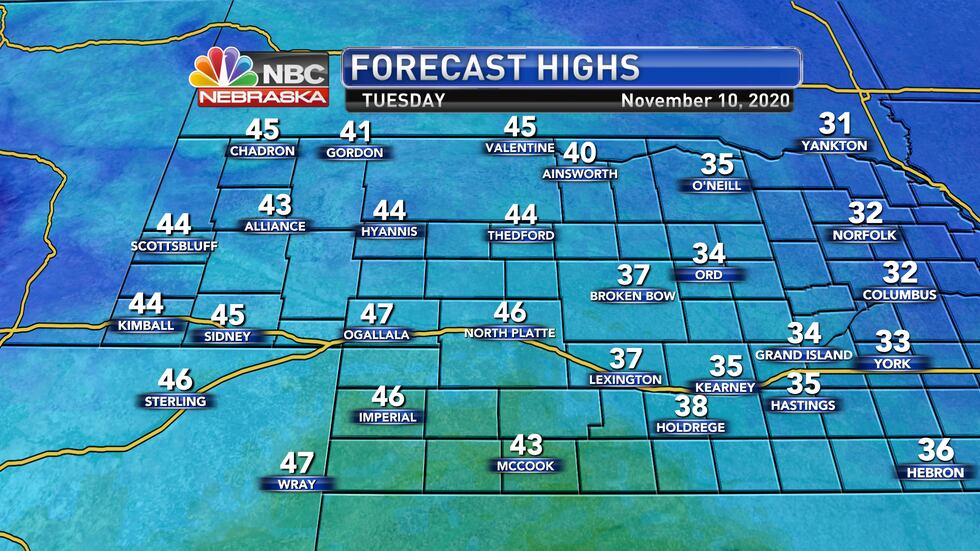 Veterans Day on Wednesday looks nice as skies remain mainly sunny and temperatures see another bump with forecast highs in the low to mid 50s across the coverage area.
Copyright 2020 KNOP. All rights reserved.