Much cooler, blustery weather with chances for showers and t-storms
Published: Apr. 5, 2021 at 1:33 PM CDT
|
Updated: Apr. 6, 2021 at 12:37 PM CDT
NORTH PLATTE, Neb. (KNOP) - After some record breaking heat for the Easter holiday and again on Monday, we'll transition to much cooler, more seasonal weather for the rest of the work week as a strong cold front and low pressure system are set to sweep across the area. Chances for showers and thunderstorms also will headline the forecast over the coming days and we could even see a little bit of snow across parts of western Nebraska.
That cold front will continue to push across the state as we head into the day on Tuesday bringing with it cooler temperatures, strong north winds, and another chance for showers and storms through the day on Tuesday. The severe weather threat will shift across the eastern half of the state, so while a few rumbles of thunder will remain possible on Tuesday across our coverage area, severe storms aren't expected at this time.
We will though see a good chance for rain with a few rumbles of thunder mixed in through the day on Tuesday and by Tuesday night into early on Wednesday we could even see a little of snow mix in - especially across northern and northwestern parts of the state.
Winds will turn to the northeast as we head into the day on Tuesday as the front pushes through the area. They'll remain quite strong through the day on Tuesday, eventually shifting to the north at 15 to 25 MPH with wind gusts up to 40 MPH possible Tuesday night and into the day on Wednesday. We could even see strong wind gusts into the day on Wednesday with north winds at 15 to 30 MPH with gusts up to 50 MPH possible.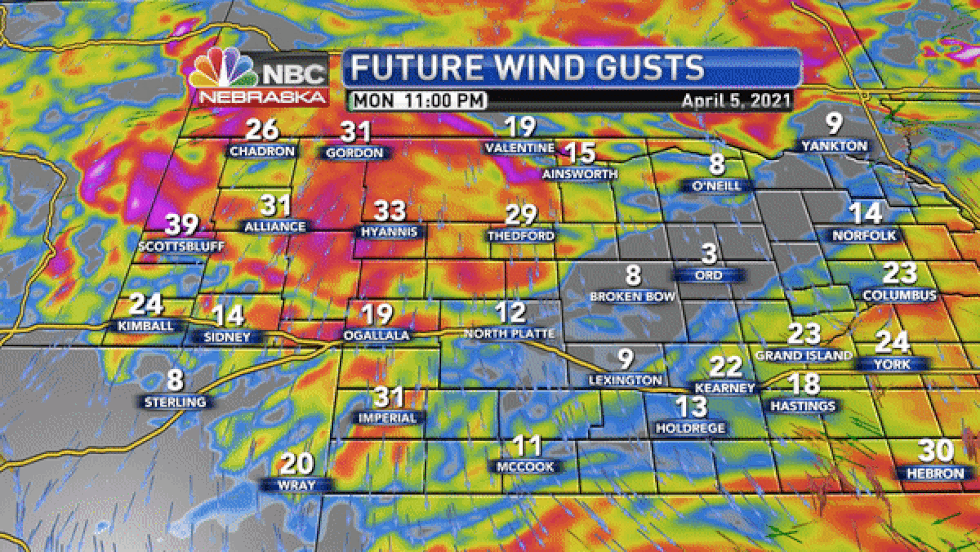 After reaching the 80s and even low 90s on Sunday and Monday, we'll see a pretty big cool down on Tuesday with the cold front pushing through the state. Look for highs in the 40s, 50s, 60s, and 70s on Tuesday across the state. Highs on Wednesday likely sit in the mid 40s to mid 50s for most. Monday's 90 degree high in North Platte was the third earliest 90 degree high on record. The first average 90-degree high is usually around May 24th. It was also a record for the day, breaking the old mark of 87 set in 1991.
The second half of the week and into the upcoming weekend look a little bit more calm with mainly dry weather expected for Thursday and into the weekend. Temperatures will bounce around a bit though, climbing back to the upper 60s to low 70s on Thursday before falling back to the 50s on Friday before jumping back to the mid to upper 60s by the weekend.
Copyright 2021 KNOP. All rights reserved.