Thursday Forecast: Sunshine and warmer weather returns to the forecast
Published: Sep. 21, 2021 at 2:56 PM CDT
|
Updated: Sep. 23, 2021 at 12:18 PM CDT
NORTH PLATTE, Neb. (KNOP) - After a chilly start to Wednesday, temperatures will be trending warmer over the coming days, including into the day on Thursday. More sunshine is expected over the next several days though with more dry weather across the area.
With high pressure sliding to the east, southerly winds will be a bit breezy at times on Thursday which should help push temperatures into the 80s to near 90° across western Nebraska.
Cooler temperatures are expected behind the front into the day on Friday with cloudy skies early in the day with some clearing into the afternoon. North winds could be a bit blustery at times on Friday, with winds at 10 to 20 MPH.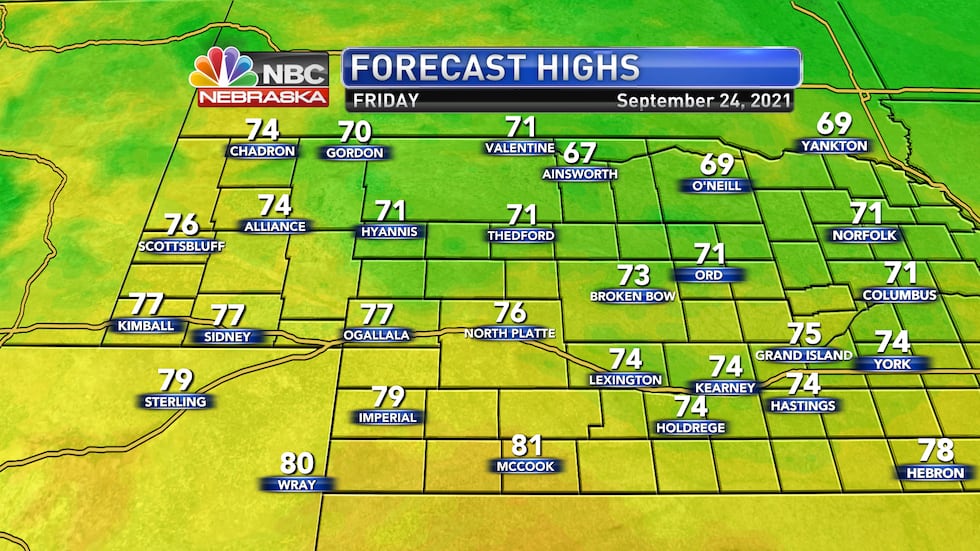 Into the weekend and early next week, temperatures will warm back to the 80s and low 90s across western Nebraska with more dry weather expected. Temperatures don't look to cool back until midweek next week with highs still in the low 80s by next Wednesday. Rain chances will be pretty slim over the next week, with perhaps some low-end rain chances returning to the forecast by midweek next week.
Copyright 2021 KNOP. All rights reserved.