A couple more hot, dry days before a major pattern change
Published: Sep. 23, 2021 at 5:39 PM CDT
|
Updated: Sep. 27, 2021 at 12:50 PM CDT
NORTH PLATTE, Neb. (KNOP) SCOTTSBLUFF, Neb. (KNEP) - It will be sunny with highs in the 80s and 90s for only 2 more days. The well-above-average temperature trend will come to an end as we move into the later portion of the workweek. There will be chances for some rain in the Wednesday through Sunday timeframe as we get a lot more active, and highs will fall back into the 60s and 70s approaching next weekend.
The workweek starts with a lot of sunhsine for Monday as it will remain hot for this time of the year; highs will be in the mid-90s, about 20-25 degrees above average. We will cloud up going through the daytime hours Tuesday, but will remain dry and warm with highs in the upper 80s. A cold fron approaches for Tuesday evening with our first chance this week of showers and t-storms. It looks like it could rain a good amount on Wednesday as highs finally plummet into the low 70s.
We will keep at least a small chance of showers every day as we finish the workweek and go through the weekend. Highs will remain in the upper 60s and lower 70s. Even though that might feel cool, it is near normal. That's because it has been very warm during the last couple of weeks. It has also been dry-- that will also change this week as we have chances for a good amount of much needed moisture. We will have a slight chance of showers Thursday, Friday, and Sunday. The best chance this weekend of seeing some rain will be Saturday.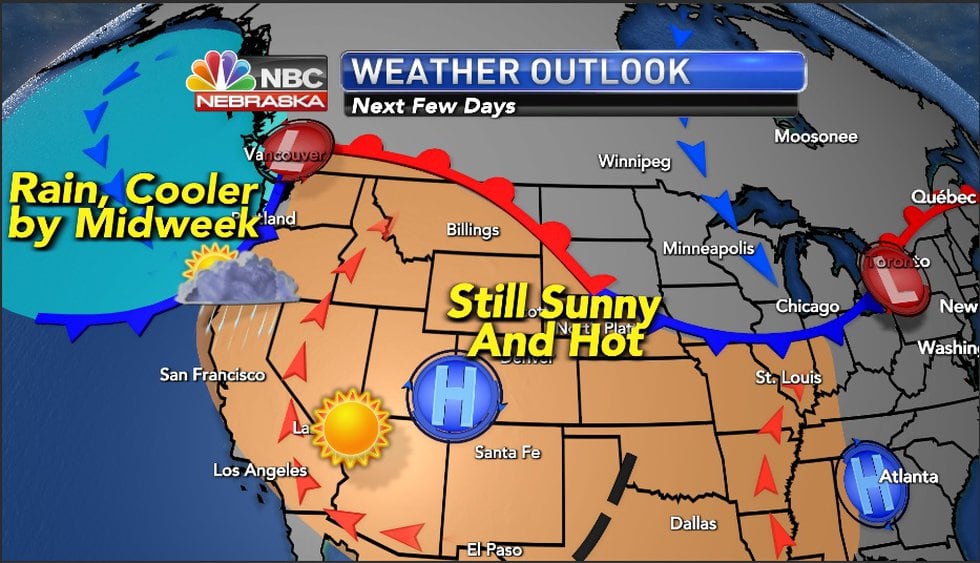 Copyright 2021 KNOP. All rights reserved.