Trump organization announces additional Nebraska rally speakers
Supporters, vendors start rolling in a day ahead of former president's rally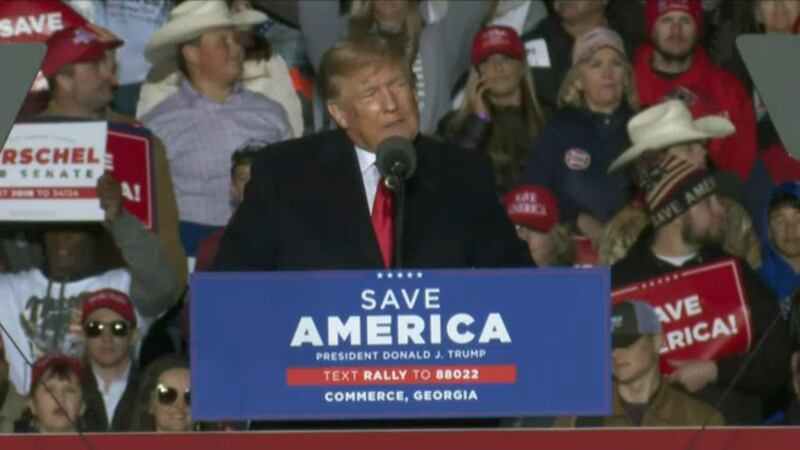 Published: Apr. 28, 2022 at 3:07 PM CDT
GREENWOOD, Neb. (WOWT) - Organizers for former President Trump's "Save America" rally announced additional speakers for Friday's event.
Event organizers had already announced Charles Herbster, endorsed by Trump in October, would be a featured speaker at the event. The Republican candidate for governor of Nebraska has made headlines in recent weeks after filing a defamation lawsuit against Nebraska State Sen. Julie Slama following accusations from her and several other unidentified women; Slama countersued on Monday.
Calling Trump "my good friend," Herbster tweeted a video of the preparations underway Thursday for Trump's rally.
In addition to Herbster, slated to speak at 5 p.m., Thursday's list of "special guest speakers" also included Kellyanne Conway, who was in attendance when Herbster announced his candidacy last April; Mike Lindell, inventor and CEO of My Pillow; as well as the chairman of CPAC and the producer of a conspiracy film blaming Facebook CEO Mark Zuckerberg for Trump's failed re-election who also serves as the president of Citizens United.
Thursday afternoon, vendors and supporters were already setting up and preparing for the rally at the I-80 Speedway in Greenwood, about 36 miles southwest of Omaha.
"We wanna make the world a better place," says Nancy Kopca, one of the many vendors. Kopca is from Wisconsin and recently retired with her husband. Now, they attend Trump rallies and sell custom T-shirts.
"We just want to spend time traveling and doing something that's important, that's really important, to get a message across that all is not lost and you know you have to chip in and get involved."
Dozens of supporters were lining up Thursday afternoon in the grassy parking lot of the I-80 Speedway.
"We can't wait to go to the Trump rally tomorrow. Woo!" Kathleen Freeberf said.
Freeberf and her husband live full-time in their camper and travel across the country. They were on the way to Illinois to visit family when they made a detour to attend the rally.
"It was on route, and we had the time, so it's awesome," Freeberf said. "How do I get front row seats?"
The rally is expected to draw a large crowd, the majority of which are locals.
Danny Thompson is from Papillion and showed up at the speedway on Thursday afternoon to get a good parking spot.
"I was ecstatic because I missed him the first time when he was at Eppley in 2020, I was not able to be there and you only get about a week's notice for these events, so when I found out he was going to be in greenwood I was pretty ecstatic," he says. "Let's make America great again, again."
Parking for the event will be available starting at 8 a.m.; the event venue opens at 3 p.m.
Trump is slated to begin speaking at 8 p.m.
General admission registration is available online via donaldtrump.com.
Copyright 2022 WOWT. All rights reserved.