New Nebraska GOP leadership says shift put the people in charge of the party
Chairman: Computers removed, returned to state Republican Party headquarters over the weekend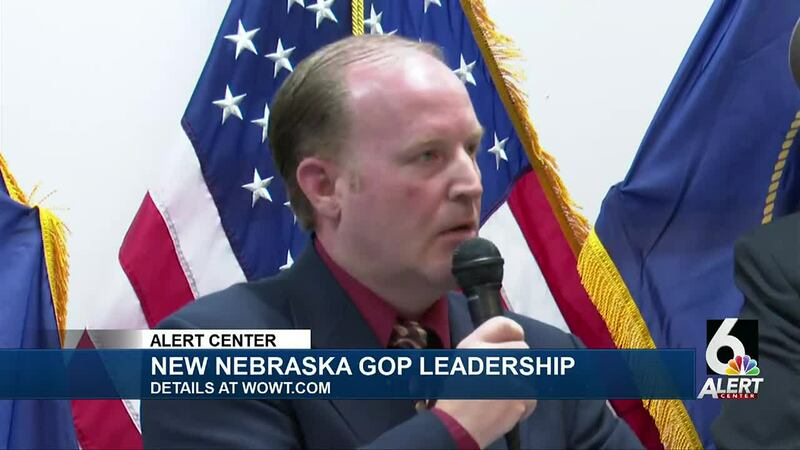 Published: Jul. 14, 2022 at 10:00 AM CDT
|
Updated: Jul. 14, 2022 at 10:14 AM CDT
LINCOLN, Neb. (WOWT) - The people are now in charge of the Nebraska GOP.
That was the message from Eric Underwood, the new state Republican Party chairman, at an event Thursday morning following a leadership shake-up that occurred at the convention on Saturday.
Underwood said the shift was a democratic — not an activist — movement.
"People are now in charge of the Republican Party," he told the crowd at Thursday morning's event. The sentiment was met with a round of applause.
Lt. Gov. Mike Foley formally introduced Underwood at Thursday's event.
Former Congressman Jeff Fortenberry, currently on probation for lying to the FBI, was also in attendance at Thursday's event, sitting in the front row.
The new state GOP officials told 6 News on Thursday that computers and security cameras were removed from the Nebraska Republican Party headquarters in Lincoln over the weekend.
"I have no actual facts on how things occurred that night," Underwood said.
He wouldn't go so far as to say anything nefarious happened after the convention drama in Kearney, and he can't say whether anything is missing, like files or hard drives, mostly because he didn't have an inventory of what was here in the first place. Also, his key to get into the office didn't work, and he had to call a locksmith.
Underwood did confirm he has the party's donor lists.
At the state GOP convention on Saturday, Chairman Dan Welch was voted out after seven years in the position by delegates. The change prompted at least a dozen more resignations of various positions within the party, including Executive Director Taylor Gage.
Party delegates then installed Underwood of Lancaster County as the state GOP's new chairman.
"There has been a lot of ink spilled over what happened in Kearney last weekend, and it's interesting stuff," Foley said.
The new leadership says it wants to change the culture.
"We have to be beyond reproach," Underwood said. "I expect those on the leadership team and those around me — even in your passion — you can find a way to have conversations that do not degrade people."
The Republican primary election for governor of Nebraska was contentious. Gov. Pete Ricketts threw his support behind eventual nominee Jim Pillen while former President Trump endorsed Charles Herbster, who finished second in the race. Lt. Gov. Foley also supported Herbster.
Ricketts, who has provided a majority of funding for the Nebraska GOP, was asked his opinion on the changes during his news conference on Wednesday.
"I look forward to seeing the plans of the new leadership and how they intend to elect Republicans," he said then, adding that his understanding is that the new leadership wants more of a bottom-up approach, starting at the county level, when it comes to candidates; while the previous leadership focused more on a top-down approach.
Watch Thursday's news conference
—
Digital Director Gina Dvorak contributed to this story.
Copyright 2022 WOWT. All rights reserved.