Pillen appoints Ricketts as Nebraska's new Senator
Published: Jan. 12, 2023 at 8:16 AM CST
|
Updated: Jan. 12, 2023 at 9:22 AM CST
LINCOLN, Neb. (WOWT) - It's official: Former Gov. Pete Ricketts is heading to Washington, D.C., to become Nebraska's next senator.
Days after Ben Sasse officially vacated his Senate seat, Gov. Jim Pillen on Thursday morning announced he was appointing Ricketts as his replacement.
"I'm very grateful for this unexpected opportunity to be able to continue to serve the people of Nebraska," Ricketts said before thanking Sasse for his service in the role, noting his commitment to selecting conservative judges, and wishing him well in his new work in higher education.
Pillen said he didn't want to put in a placeholder, and wanted to choose someone who could win the seat in future elections — someone with "seniority." The governor said Nebraskans know what they're getting with Ricketts, who has committed to running for the senate seat in 2024 and 2026.
"Gov. Ricketts assured me that no matter who calls for a different job, he is committed to the United States Senate," Pillen said. "No matter who calls him to be a vice president of the United States, who calls him to be ... Secretary of State or any other thing, he's committed to this seat; and he and Susanne have committed to winning elections at a minimum of 10 years, and I'm praying it's gonna be longer than that, and you're gonna love it there, Susanne."
"Very flattering. Thank you," Ricketts said as the group had a laugh.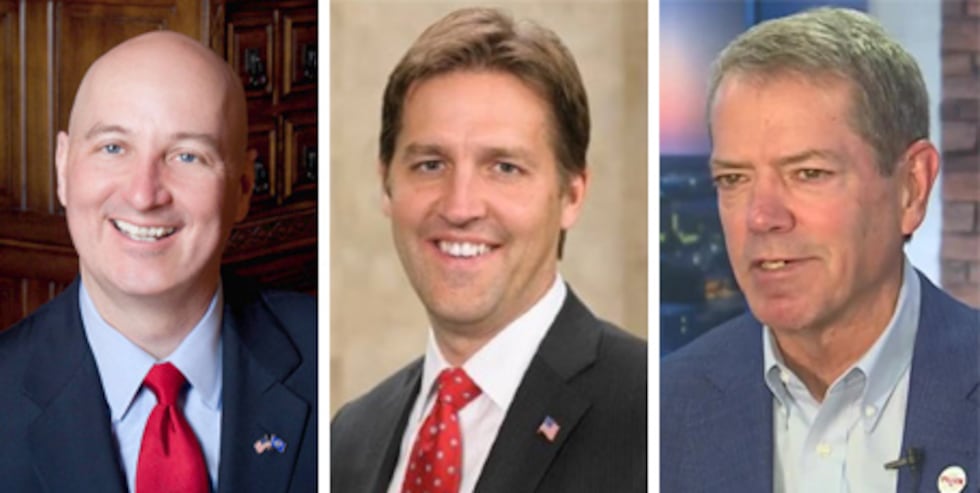 Pillen had been mulling the list of interested parties since the window for applications closed in December. Pillen said Thursday that he interviewed nine candidates out of 111 applicants. Among those nine were former State Sen. Brett Lindstrom, who ran against Pillen in the Republican primary; Pinnacle Bank's Sid Dinsdale; and Bryan Slone, the head of the Nebraska Chamber of Commerce.
"It was a very, very hard decision," he said, noting that he didn't interview any Democrats.
Senator-designate Ricketts, who supported Pillen's campaign, led a slate of applicants — many of whom were familiar names in Nebraska politics.
Ricketts described the interview process as more of a dialogue. He said it lasted a little over an hour.
SELECTION PROCESS
The new governor choosing the man he replaced in office didn't go over well will political opponents.
Nebraska's Democratic chairwoman called Ricketts' appointment to the U.S. Senate the "most blatant pay-for-play scheme ever in Nebraska."
Ricketts supported Pillen publically and financially in his race to be governor, donating more than $100,000 of his own money to the Pillen for Governor campaign. But the governor shot down the notion of any "backroom dealings" in choosing to send Ricketts to the U.S. Senate.
NDP Executive Director Precious McKesson said she wants to see Ricketts live up to his promise of serving all Nebraskans.
"I hope he remembers ALL people in Nebraska, including those people and issues he has repeatedly sought to marginalize: women's reproductive freedom, equal rights, voting rights, and support for our strong public schools," she said in the NDP news release. "We look forward to watching how he will seek to better represent everyone in Nebraska — Republican, Democrat and Independent."
JUNIOR SENATOR
Ricketts spent eight years roaming the halls of the Nebraska state Capitol; now he's headed to the U.S. Capitol. The senator-designate replaces Sasse, who spent that same time serving Nebraskans; Ricketts will serve out the rest of Sasse's term, and has already committed to running for the seat in 2024.
Sasse, whose resignation as Nebraska's junior senator was official on Sunday, gave a farewell speech on the Senate floor last week. Sasse left to become the president of the University of Florida following a contentious confirmation process there. He starts that job next month.
Ricketts will join the Senate as senator 100 out of 100, since it's based on seniority.
"I am also very, very excited to have Pete Ricketts as a colleague," Sen. Deb Fischer said at Thursday's news conference. "He understands this state. He knows this state. He has connections all over this state, and he has shown that he will be out traveling the state. He will be listening to Nebraskans, that is a strength that Pete has, and that is something I'm looking forward to him bringing to the Senate as my colleague."
The Senate is slated to convene on Monday, Jan. 23.
Copyright 2022 WOWT. All rights reserved.