Navigating Veterans Affairs, access to its services
So many vets are in need of help, and many don't know how to access the VA's systems.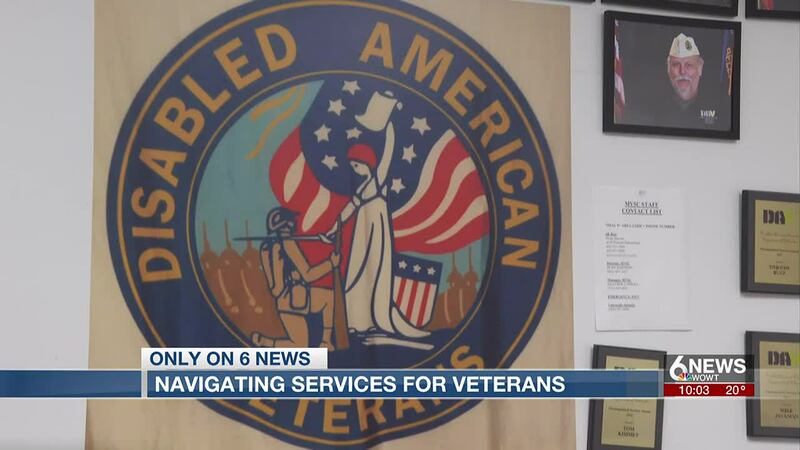 Published: Jan. 13, 2023 at 10:33 PM CST
OMAHA, Neb. (WOWT) - There are 22 million veterans in the U.S. -- and only 1,100 locations for their healthcare. An array of other support services are available through the VA system -- if veterans can get to them.
Coming home, some say, is the hardest part. After Vietnam, the VA wasn't the answer.
"It was pretty grim, but they've improved significantly."
Jon Kayne served in Vietnam, has been a mental health practitioner for 46 years, and works with 20 to 30 vets a week at the Military Veterans Service Center (MVSC) on the campus of Bellevue University.
"One of the characteristics that vets have is, really, once they feel betrayed they have a really hard time giving their trust again."
More than 340,000 veterans live in Nebraska and Iowa, and there are dozens of service groups in nearly every county. But many veterans and thier families don't realize all they have to do is reach out, since the services are mostly free.
Tim Butz with Disabled Veterans of America says they've seen over 7,000 vets at the MVSC in Bellevue. He also served in Vietnam and said he wouldn't "let them cut my toenails" at the VA after he returned home.
"It was a horrible place to be," he said. "The VA has addressed those deficiencies and has improved itself. It's radically different than what it was when I was a young man."
"That's what this is about, where we don't fix everything for you...but we're absolutely here to walk you through, to help you understand it," said Heather Carroll, center manager and Air Force veteran. She added they work with, not against the VA itself, but do their best to help vets get the most from their benefits. With so many veterans and so many regulations to follow, VA departments can become overloaded, making it be difficult for veterans to get their paperwork in the right hands, and filed with the right information, for example.
"Veterans who tried to navigate the VA process on their own are facing a fearsome challenge," Butz said. "The VA does not make it easy. We're here to help the veterans overcome those barriers."
Peggy Ullom and David Mike headquarter the Guitars 4 Vets Nebraska chapter at the MVSC, and have helped hundreds find their voice through playing guitar. Peggy served 10 years in the USAF and Mike served in Vietnam during his 26 year USAF career.
"We can help you, we can lead you to the people that can help you," Ullom said. "That's another great thing about this environment is that it exposes you to other organizations they might not have otherwise come across."
"Their programs are great," said Erik Schlegel, Navy veteran. "You have vets who learn how to play guitar. We've had vets here do aerobics, yoga, [and] counseling. There's a program for those who might be in legal trouble, [tax help]."
"These guys gave me almost the literal boot in the behind to not only maybe trust some people that are trying to help, but also to make my life better," said Navy vet Johnny Farnen.
"This is a safe zone," Kayne said. "Even though I'm serving in a counseling function it's a safe zone for me. I feel very comfortable here."
"We just share our knowledge, we don't want to hang on to it," Heather said. "We want to make sure everybody's got what they need."
All veterans are urged to register with the VA, even if they don't use them for medical services. They'll then be on the record to help increase funding for all veterans' service locations like this one. The Bellevue University sponsored location is unique, but Carroll hopes it can provide a road map for other one stop locations around the country.
Copyright 2023 WOWT. All rights reserved.