Nebraska senators adopt rules that will govern the legislature for the next two years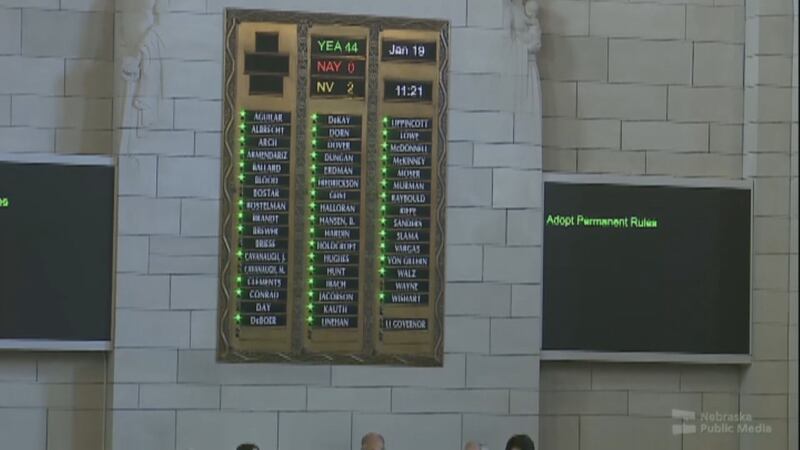 Published: Jan. 19, 2023 at 12:42 PM CST
|
Updated: Jan. 20, 2023 at 11:30 AM CST
LINCOLN, Neb. (KOLN) - Nebraska senators adopted permanent rules for the 108th legislative session Thursday morning after a nine hour committee hearing last week sorting through more than 50 proposed changes.
"I believe the rule committee treated every introducer, every testifier with respect," rules committee chair Senator Steve Erdman said. "I hope that was the case, that was our intent. A lot of those rules had a lot of thought and input and I believe they all deserved to be heard and we did that."
Out of the more than 50 ideas, Erdman brought just seven changes out of committee to the full body. The list didn't include any of the more controversial changes discussed in committee, like a proposal to make senators votes for committees public instead of by secret ballot and a change that would ban media from attending executive sessions.
Instead, what was brought were largely administrative changes that were nearly unanimously agreed on, like a change to silence cell phones in the chamber, to lay out a timeline for public notice on rules debates, tweaks to the priority bill process and a rule that makes guidelines for how committees should operate available electronically.
The most debated bill on the list of seven that survived the rules committee changed the speaking order after a motion to indefinitely postpone a bill is made. This type of motion suspends all further activity on a bill, unless it can survive a supermajority vote. In previous rules, the senator who makes this motion is able to speak on the bill before the bill's proponent has a chance to introduce the bill. Many of the legislature's more conservative members supported this change, saying senators have used the motions too often. Senator Lou Ann Linehan said she's had bills fall victim to IPP motions, including bills she has worked on for years.
"I worked very hard as all you will, diligently on your bill and I made multiple changes to convince people I was willing to work with them and it finally came to the floor and I never even got up to introduce the bill because there was an IPP motion," Linehan said. "I've never forgiven the senator."
Linehan said allowing the senator who makes the IPP motion to speak first "undoes" the work senators do to compromise and allows them to misrepresent what's in the bill.
Senator Megan Hunt said the IPP motions wouldn't be used if controversial and radical bills weren't introduced.
"We have never had bills introduced to stand between a parent and their child and their healthcare provider and getting care they need if they are trans or non-binary. We have never had a bill like that in Nebraska, something so hateful, so divisive, such a fake problem being introduced to drive a wedge between people. So yeah that bill gets an IPP motion. All of those bills get an IPP motion. It is so radical, so hateful that it deserves an IPP motion. Don't bring bills like that if you don't want an IPP motion."
In the end, the rule change passed, with Hunt calling it a compromise they were willing to make.
After the rules that went through committee were voted on, Senator Machaela Cavanaugh introduced an additional rule change that failed to pass. The first would have banned both open and concealed carry of all deadly weapons in the capitol as she said it makes constituents nervous.
"I do think people would be reacting kind of oddly if somebody was walking around the halls with a machete and I know that's a ridiculous idea, but right now our state patrol cannot tell that person you can't have that in here," Cavanaugh said. "I don't think it's appropriate for someone to bring a weapon of any kind, including a gun into the capitol. We are here to do the people's business. This is not taking away anyone's rights. It's a choice to come to the capitol, just like it's a choice to go to anywhere where guns are prohibited which is a lot of places."
Those opposed to the rule change brought up concerns that anything could be a deadly weapon depending on intent and also said the change would inhibit second amendment rights. Senator Tom Brewer, who is introducing a constitutional carry act, was among those who spoke against the rule change.
"Some of this was started by a bill, my bill, about constitutional carry. Some of it is also because attempts by radicals to bring red flag laws, assault weapons bans. If you want to motivate the second house go ahead and take away constitutional rights. There's those in this room who felt uncomfortable and wanted to be escorted because the second house came and second house is going to be back next week. What you want to do now is say we're not going to take away your right to vote or right to speak but we are going to take away your right to keep and bear arms," Brewer said.
The rule change failed 7-32.
Omaha Senator Mike McDonnell also introduced an additional rule change allowing veterans or military service members to lead the pledge of allegiance at the beginning of a day in session. Right now senators have the option to lead it, to say a prayer or to invite a clergy member to do it. This passed 44-0.
Debate on bills and committee hearings will start Monday.
Copyright 2023 KOLN. All rights reserved.