NTSB releases details about Auburn plane crash that killed 2
The plane had taken off that evening from Lincoln Airport.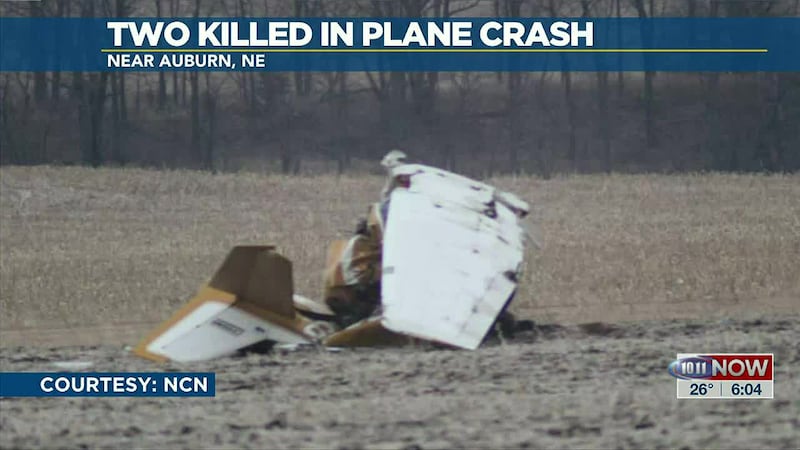 Published: Jan. 27, 2023 at 12:24 PM CST
(WOWT) - More details have come to light about the Auburn plane crash that killed two people including a former UNK baseball player.
Colton Hill, 24, of Kearney, and 41-year-old Dustan Biegler of Valparaiso were killed in the crash. Hill graduated from the University of Nebraska-Kearney last May, earning a degree in aviation systems management with an emphasis in flight operations. He had also played baseball for UNK and owned a flight-training operation.
According to the preliminary National Transportation and Safety Board report, flight data indicated the Cessna 150H took off from Lincoln Airport at about 6:45 p.m. Jan. 11, climbing to about 3,500 feet. Windspeeds were recorded at 12 knots, with visibility at 10 miles.
About six miles northwest of the Auburn airport, the plane began to descend, with the last air surveillance report showing the plane flying 105 knots at about 1,900 feet a mile from the airport at 7:22 p.m. — two minutes before the crash just south of the airport.
911 received a call at 11 p.m. that night stating a plane was missing; it was expected to return to Lincoln but never arrived.
There were no witnesses to the crash and no evidence of a wire strike, but the NTSB report states that the wreckage and positioning of the debris indicate the front of the plane was pointed downward at the time of the crash.
"The nose landing gear tire was found about 200 feet southwest of the main wreckage. Crushing of the front fuselage (nose area) was consistent with a nose down attitude during impact," the report states.
The crash also left indications that all three wheels and both wing tips hit the ground in an empty farm field at some point during the incident.
"The airplane came to rest upright about 135 feet southeast of the initial impact," the NTSB report states.
The agency retained the plane for further examination.
Copyright 2023 WOWT. All rights reserved.