Warming trend Monday into Wednesday; Watching winter system Thursday
Published: Mar. 13, 2023 at 9:04 AM CDT
NORTH PLATTE, Neb. (KNOP) -SCOTTSBLUFF,Neb.(KNEP)- After a cool end of the weekend, temperatures will be on the warming trend Monday through Wednesday with dry conditions. Things change as we head into Thursday, with a winter system potentially moving into the area.
High pressure is in control Monday into Wednesday, bringing a southerly flow into the area. This will bring in warmer, Gulf of Mexico air and this will allow for temperatures to increase Monday into Wednesday. Highs on Monday will climb into the 40s and even the 50s in some locations, particularly in the Panhandle, with overnight lows in the 20s and 30s. Once we enter Tuesday into Wednesday, temperatures will increase into the 60s to near 70 degrees with sunny to mainly sunny skies continuing across the area, with overnight lows in the 20s and 30s.
As we head into Wednesday night into Thursday, we will start to feel the affects of impactful winter storm, especially for Greater Nebraska. This storm will drop temperatures down 30 to 40 degrees from Wednesday into Thursday, with values in the 30s. This system has the potential to bring accumulating snowfall, especially into Greater Nebraska. Greater accumulations are possible along and east of Highway 83. These accumulations will need to be monitored over the next few days. Another threat will be strong winds from 30 to 40 mph, with gusts around 50 mph. This, with the combination of the snow, this could cause whiteout conditions. This will be something to watch out for during this event.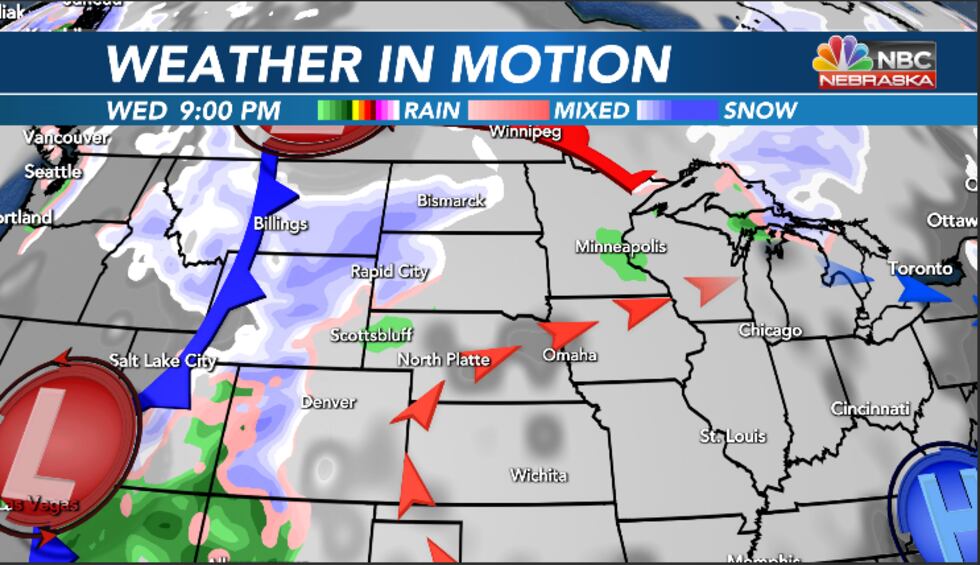 Copyright 2023 KNOP. All rights reserved.