Man accused of intentionally crashing into cars, police say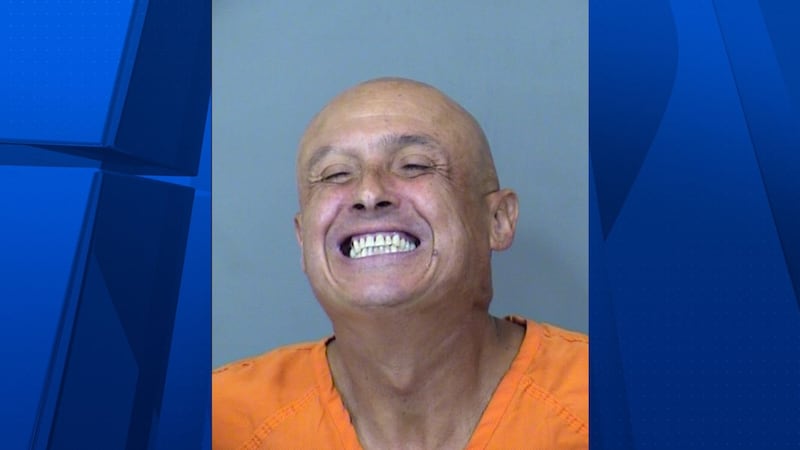 Published: Apr. 25, 2023 at 10:38 AM CDT
TEMPE, Ariz. (3TV/CBS 5/Gray News) - A man is accused of going on a crime spree of intentionally ramming and throwing rocks at people's cars and even running over a man in Tempe over the weekend.
Court documents say on Sunday, a woman told police that 48-year-old Lynn Camplin was driving a pickup truck on Priest Drive when he tried to "ram" her car. The woman said she saw Camplin laughing as he attempted to collide with her.
He then drove into the parking lot of the Arizona Mills and stopped, facing a Corvette. Investigators say he started revving his engine and hit the gas, hitting the Corvette on the driver's side.
The Corvette driver was trapped inside and had to be rescued by firefighters.
Court paperwork says witnesses said the crash was intentional because the parking lot was nearly empty, and Camplin stopped his truck right in front of the Corvette. The victim was rushed to the hospital with a brain bleed.
After hitting the Corvette, Camplin took off through the parking lot and hit another car with two people inside, police said. The two weren't hurt, and Camplin sped back onto Priest Drive.
He then drove into a parking lot near 48th Street and Southern Avenue, roughly two miles from the mall. He reportedly pulled up behind a woman inside a Nissan Sentra, began revving his engine and hit her car.
The woman got out of her car when Camplin reached inside his vehicle. The woman thought he was going for a gun, so she drove off behind a business as Camplin sped away, court paperwork says.
She told police he intentionally rammed her and was trying to injure or kill her, police said. She said she had never met Camplin, and the crash was unprovoked.
Officers say Camplin also threw rocks at three people's cars near 48th Street and Broadway Road. One of the cars had damage totaling $5,000.
Court paperwork says throughout the investigation, officers also learned Camplin was involved in two hit-and-runs, one near Southern Avenue and Hardy Drive and the other near 48th Street and Southern Avenue.
Police say during the crime spree, a witness also saw Camplin erratically driving and running over a person. Camplin reportedly got out of his truck and ran toward the victim, picking him up and throwing him on the ground, investigators said.
Officers eventually tracked Camplin's truck to 48th Street and Broadway Road, where he was arrested.
He was later taken to the hospital, where doctors found he was sweating profusely and had a high pulse and blood pressure. Court documents say the symptoms were signs of drug use.
He was released from the hospital and booked on one count of endangerment, one count of deadly aggravated assault, one count of aggravated DUI, four counts of aggravated assault, three counts of criminal damage and two counts of hit-and-run.
Copyright 2023 2023 KTVK/KPHO via Gray Media Group, Inc. All rights reserved.