Isolated to scattered strong storms with warm temps Wednesday; Remaining wet and cooler Thursday and beyond
Published: May. 31, 2023 at 8:35 AM CDT
NORTH PLATTE, Neb. (KNOP) -SCOTTSBLUFF,Neb.(KNEP)- Stormy skies will continue to be in the headlines during the day Wednesday with some being on the strong side. Wet conditions will continue into the day Thursday and beyond that.
Our area of high pressure is still positioned to our south and east, and disturbances to our north and west will continue to bring us shower and thunderstorm chances across the area. Some of these storms could be strong to briefly severe into the Panhandle and the Western portions of Greater Nebraska. Damaging winds, hail and locally heavy rainfall are the main threats, along with frequent lightning. Ahead of these storms, our highs will reach into the low to mid 80s with winds on the slightly breezy side, with speeds around 5 to 10 mph. The main timing of these storms will be similar to Tuesday, with that timeframe being between 4 p.m. CDT until midnight CDT. Lows will drop down into the 50s and 60s with all storms clearing out after midnight.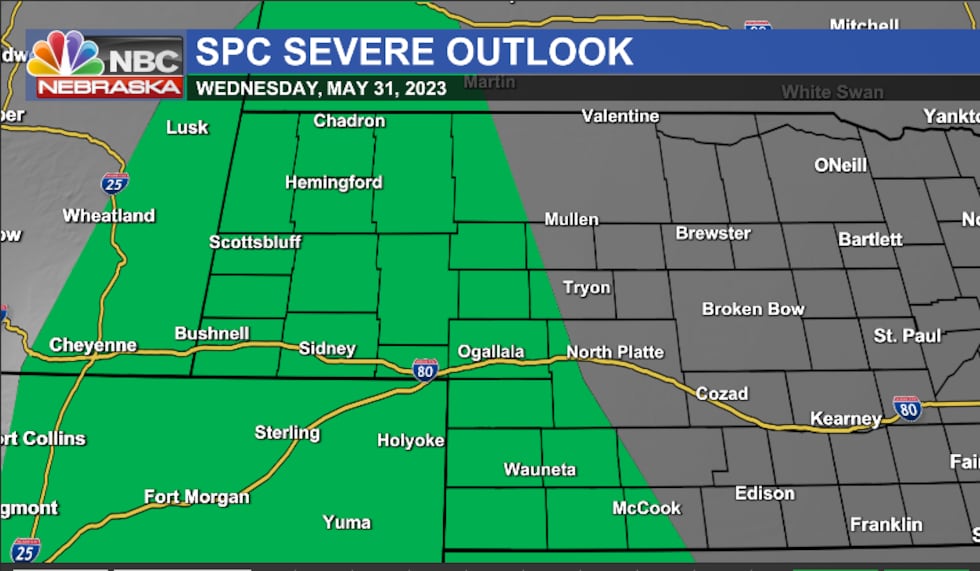 During Thursday into the weekend, the jet stream will be repositioning itself slightly towards the south. This will allow for slightly cooler air across the viewing area, and this will allow our active pattern continue. More rain and thunderstorm chances will persist around here and highs will drop down into the 70s, which will become below average for this time of year. Due to the cooler air, severe weather chances will drop during this timeframe, with a shift in the impacts of this busy weather pattern mainly to locally heavy rainfall. Around .5 to 1.5 inches of rain to occur with locally higher amounts.
Copyright 2023 KNOP. All rights reserved.