Abortion rights advocates lay groundwork for ballot initiative in 2024
Recently registered 'Protect Our Rights' committee has yet to decide exact language of proposed constitutional amendment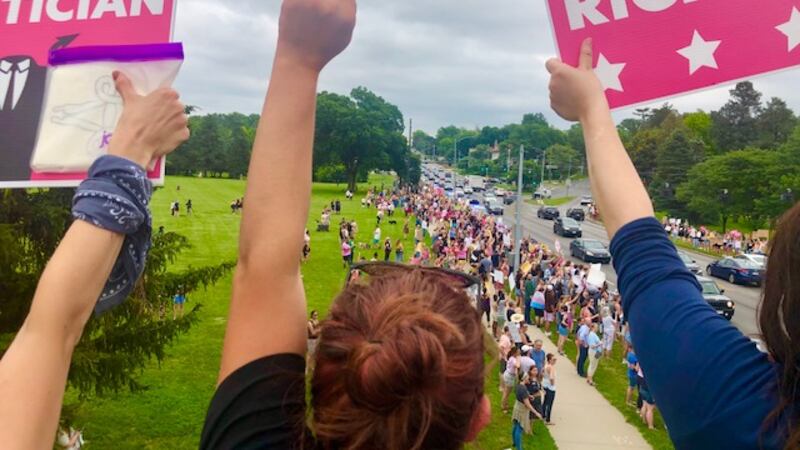 Published: Aug. 17, 2023 at 5:08 PM CDT
LINCOLN, Neb. (Nebraska Examiner) - Abortion rights advocates in Nebraska are gearing up to place the issue of reproductive rights before voters in 2024.
A political campaign committee called "Protect Our Rights" recently filed organizational papers with the Nebraska Accountability and Disclosure Commission with the stated purpose of amending the State Constitution next year to protect the right to abortion on the ballot.
While the committee has yet to decide the exact language of such an initiative petition, and abortion rights advocates are still seeking to overturn in court Nebraska's recently passed ban on abortion at 12 weeks of gestation, a spokeswoman said abortion rights advocates are pursuing "every option open to us" to restore reproductive rights.
"Protect our Rights is a grassroots coalition who believe that all Nebraskans have a right to the freedom to make their own decisions about pregnancy and abortion, without government interference," said Andi Curry Grubb, the executive director for Nebraska of Planned Parenthood North Central States. She is also executive director of Planned Parenthood Advocates of Nebraska.
Curry Grubb said advocates aren't abandoning the effort to appeal a recent court ruling that upheld the stricter ban passed by the Nebraska Legislature earlier this year but are "exploring all possible options."
'More of a nonpartisan issue'
"I think the majority of Nebraskans agree that the government shouldn't be involved in these decisions," Curry Grubb said, adding that reproductive rights are "becoming more and more of a nonpartisan issue."
Nate Grasz of Nebraska Family Alliance, which opposes abortion rights, said his group had been anticipating such a move.
"While we're disappointed that there appears to be an effort to strip away pro-life protections for women and children in the state, we're fully prepared to fight to protect women children and families in Nebraska from the harms of abortion," Grasz said.
Curry Grubb said a "grassroots coalition" is still considering the precise language for the Protect Our Rights petition.
A big question will be whether the initiative seeks to enshrine a right to abortion in the State Constitution, or whether it only seeks to repeal the new Nebraska law and return it to the 20-week ban that had existed.
Petition language would have to be submitted to the Nebraska Secretary of State's Office and approved before the group could begin to collect signatures.
To place a proposed constitutional amendment on the ballot requires valid signatures of 10% of the registered voters in the state, which would mean just under 123,000 as of Aug. 1. In addition, signatures must be collected from 5% of the registered voters in 38 of Nebraska's 93 counties.
Abortion rights is winning at ballot box
Reproductive rights have been on a recent winning streak at the ballot box.
Abortion rights advocates recently claimed a victory in Ohio, where voters rejected an effort to make it harder to amend the state constitution ahead of a November vote there to provide a constitutional right to abortion.
A year ago, voters in an adjacent red-state Kansas rejected — in a surprising landslide — a ballot initiative that would have stripped abortion rights there.
In the 2022 elections, three states — California, Vermont and Michigan — approved ballot measures enshrining abortion rights into their state constitutions, The Hill reported. Meanwhile, voters in two traditionally red states — Montana and Kentucky — rejected measures that would have restricted reproductive care.
Last week, a Lancaster County judge rejected an effort by abortion rights advocates to throw out the state's 12-week gestational age ban and a ban on gender-affirming procedures for minors. Legislative Bill 574, abortion rights forces argued, violates the state's "single subject" requirement for legislation — an argument that Judge Lori Maret rejected.
The organizational papers for the Protect Our Rights committee were filed Aug. 4, a week before the ruling. In a more recent filing, the committee said it had collected or spent at least $5,000 as of Aug. 11.
Curry Grubb said recent statements by Gov. Jim Pillen and other opponents of abortion rights make it clear that they are going to pursue even greater restrictions on reproductive rights, so it's imperative, she said, to take action now to protect those rights.
"These deeply personal decisions should be treated with compassion and privacy, without government or political interference," she said.
Nebraska Examiner is part of States Newsroom, a network of news bureaus supported by grants and a coalition of donors as a 501c(3) public charity. Nebraska Examiner maintains editorial independence. Contact Editor Cate Folsom for questions: info@nebraskaexaminer.com. Follow Nebraska Examiner on Facebook and Twitter.
Copyright 2023 KOLN. All rights reserved.