Knights split opening day of Otero tournament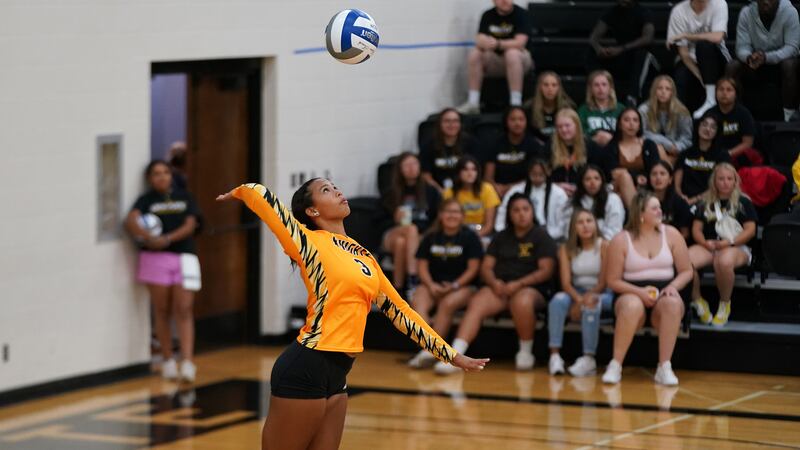 Published: Aug. 25, 2023 at 10:21 PM CDT
NORTH PLATTE, Neb. (KNOP) - The North Platte Community College volleyball team split its games during the first day of a tournament hosted by Otero Junior College in La Junta, Colo. Friday afternoon.
The Knights took on Barton Community College first and lost in three sets: 21-25, 16-25 and 16-25.
Vanessa Wood led the offense with seven kills while Samantha Riggles had six and Jaelyn Dicke had five. EmiLee Walnofer went for nine digs, and Dicke contributed eight.
"I was disappointed in our execution against Barton," said NPCC volleyball head coach Alexa McCall. "I thought we should have played them tougher and just let errors build up."
The tide turned for the Knights in the second match as North Platte won its first game of the season - beating Eastern Wyoming College 3-2. The set scores were 22-25, 21-25, 26-24, 27-25 and 15-13.
Wood tallied 19 kills in that match while Riggles added 12. Dicke notched 11 kills, five aces, and 26 digs. Wood and EmiLee Walnofer recorded 20 and 18 digs, respectively. As a team, the Knights finished with 11 blocks total.
"I am really pleased with the fight we showed against EWC," McCall said. "We played great defense, served really well, and stayed aggressive."
That brings North Platte to 1-6 on the season.
The tournament will continue into the weekend with the Knights facing Dodge City Community College at 1 p.m. Saturday before taking on Lamar Community College at 4 p.m.
The most up-to-date information about NPCC athletics can be found online at: npccknights.com.
Copyright 2023 KNOP. All rights reserved.