Slama, Spellerberg, Royal, Biar among state treasurer applicants
Pillen to pick replacement for Murante as state's banker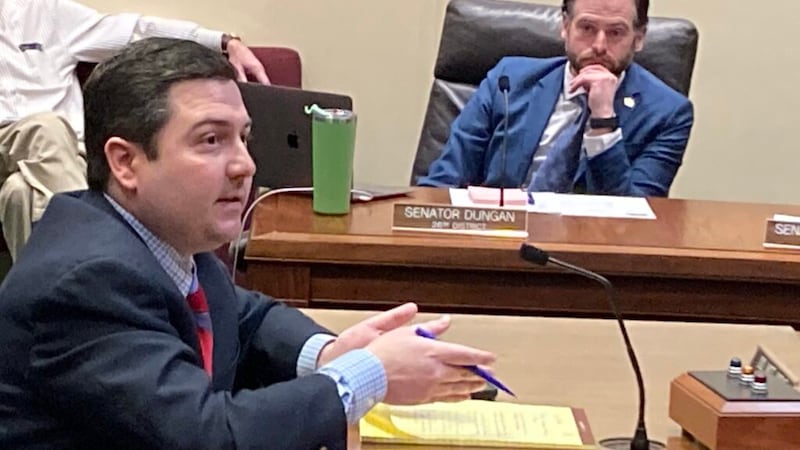 Published: Sep. 7, 2023 at 2:25 PM CDT
LINCOLN, Neb. (Nebraska Examiner) - This year, Gov. Jim Pillen has the only vote for state treasurer that matters. Pillen's appointed successor to John Murante will serve until voters get a say in 2026.
The governor has not hinted that he has any favorites among the handful of Republican candidates who have told the Nebraska Examiner they might be interested in the job.
The treasurer effectively functions as the state's in-house banker and financial adviser. Ambitious politicos often view the job as a statewide springboard to higher office.
Former Gov. Dave Heineman, for instance, served as treasurer before being appointed lieutenant governor by then-Gov. Mike Johanns.
Four known applicants
Four potential candidates — State Sen. Julie Slama of Dunbar, Fremont Mayor Joey Spellerberg, former treasurer candidate Taylor Royal of Omaha and Assistant State Treasurer Rachel Biar of Dorchester, Neb. — confirmed this week that they had applied.
Slama, a lawyer, chairs the Legislature's Banking, Commerce and Insurance Committee. Gov. Pete Ricketts appointed her to the Legislature in January 2019. She won election to her post in 2020, during one of the state's most contentious Republican primary elections, defeating Janet Palmtag.
Spellerberg, whose family owns Moostash Joe Tours, is considered by some as a rising Republican. He is known for his work in economic development.
Royal, a financial adviser, ran for treasurer in 2018 and for Omaha mayor in 2017.
Biar has worked in the Treasurer's Office for nearly two decades, serving four different treasurers. She oversees the state's college savings plans.
Two decide to punt
Two candidates who considered applying — State Sen. Ben Hansen of Blair and former State Sen. Theresa Thibodeau of Omaha — said this week that they decided to pass on the opportunity.
The Governor's Office closed its public application process Wednesday afternoon and did not immediately release a list of applicants.
More people than those discussed have likely applied.
Nebraska Democrats did not expect a serious applicant because Pillen, a Republican, is unlikely to consider someone from a competing political party.
Quick decision likely
Political observers expect the governor to schedule interviews and make a decision quickly. The treasurer oversees programs from child support payments to college savings plans.
Murante was chosen last month to lead the Nebraska Public Employee Retirement Systems. In an Aug. 30 letter to the governor, he resigned effective 11:59 p.m. Sept. 18.
This will be Pillen's fourth major appointment of an elected official. He appointed Ricketts to replace U.S. Sen. Ben Sasse, R-Neb., after Sasse resigned to lead the University of Florida. He appointed State Sen. Carolyn Bosn of Lincoln to replace then-Lincoln mayoral candidate Suzanne Geist. He also appointed his own replacement on the University of Nebraska Board of Regents, former Speaker of the Legislature Jim Scheer of Norfolk.
Nebraska Examiner is part of States Newsroom, a network of news bureaus supported by grants and a coalition of donors as a 501c(3) public charity. Nebraska Examiner maintains editorial independence. Contact Editor Cate Folsom for questions: info@nebraskaexaminer.com. Follow Nebraska Examiner on Facebook and Twitter.
Copyright 2023 KOLN. All rights reserved.