'Toxic algae' fouling Nebraska lakes, raising water quality concerns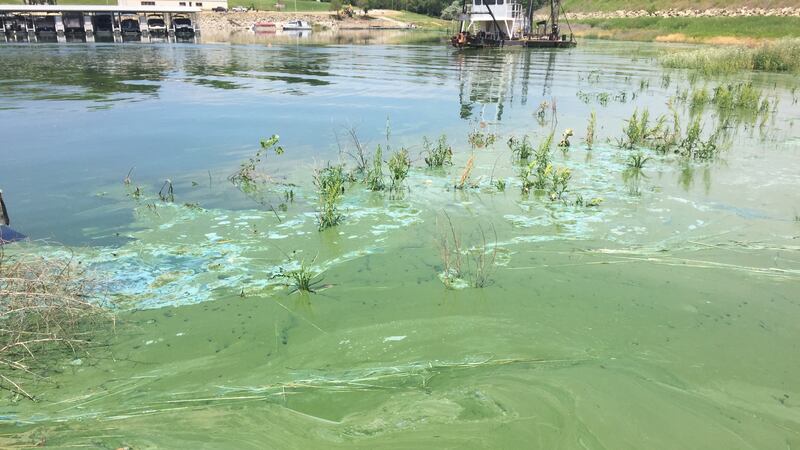 Published: Sep. 29, 2023 at 2:31 PM CDT
LINCOLN, Neb. (Flatwater Free Press) - Bosley was a giant of a dog – a cross between a mastiff and a Rottweiler.
But he had a playful spirit, so it wasn't unusual that on a spring day in 2004 he'd dash headlong into the sandpit lake near the Kappas family home, gulping water and chasing fish.
The only remarkable detail of the otherwise routine trip to Buccaneer Bay, recalled owner Tom Kappas, was the bright green color of the water.
Algae, he and his wife figured.
Within an hour, Bosley was dead.
And within days, the U.S. Centers for Disease Control and Prevention had a scientist on an airplane, headed to Nebraska to investigate Bosley's death and that of another dog.
The scientist looked at the "green yuck" in the Cass County lake, Kappas recalled, and said, "Oh that's not supposed to be here."
Toxic cyanobacteria. One of nature's most powerful poisons.
Commonly referred to as toxic algae or blue-green algae, the soupy mess was actually a "bloom" of aquatic bacteria.
Normally benign, cyanobacteria are common across the planet.
But under the right conditions – as was the case in Buccaneer Bay that summer and dozens of Nebraska lakes since – cyanobacteria can release potentially lethal poisons. It is a growing concern in water bodies worldwide.
Toxic cyanobacteria can sicken and kill animals and in rare cases be fatal to people. It can make drinking water more costly to purify and the safety of eating the fish uncertain. Exposure can come from contact with the water or breathing airborne particles.
The 2004 incidents in Nebraska, along with similar ones in Iowa, Vermont and New York, were so jarring that the scientific community launched a new era of expanded testing and research in the United States, said Jennifer Graham, the research hydrologist who represents the U.S. Geological Survey on a federal task force focused on the issue.
Now 20 years later, scientists have some answers.
They know that agricultural, urban and residential runoff is feeding the problem. They worry that human-caused climate change is supercharging it. But they have too few years of data to answer a basic question: Are outbreaks becoming more frequent?
"That's really the question scientists are asking now: Is the increase real, or do we just have a heightened awareness of the problem?" Graham said.
For some Nebraskans, especially those on the more intensely farmed eastern side of the state, the answer seems obvious: their lakes are changing and not for the better.
Neil Harrison, a 71-year-old lifelong Nebraska fisherman, no longer takes his dogs to lakes in the Norfolk area, and fishes there far less often.
"When I was younger, none of this was going on," he said. "It's obvious that something's changed."
Case in point: Willow Creek Lake, located northwest of Norfolk. For years it has been one of the state's most affected lakes. Since 2005, some summers have seen 10-14 weeks of unhealthy levels – based on current health standards.
So far this year alerts have been issued for seven weeks.
"We can't fish in our own neighborhood," Harrison said.
Determining whether outbreaks are on the rise is no small question, given the potential harm if waterways become routinely fouled by toxic cyanobacteria, said Jessica Corman, an associate professor and head of the aquatic ecology lab at the University of Nebraska-Lincoln.
"On the one hand, we don't know enough to make strong statements about what is going to happen," Corman said. "But on the other, we worry that once we do know enough, it will be too late. So the question is, 'What do you do?'"
Despite the political and economic hurdles, she said, the problem is easier to prevent than it is to clean up.
Toxic cyanobacteria thrive on warm, nutrient-rich water, especially the type of nutrients – phosphorus and nitrogen – that find their way from farm fields and urbanized areas into waterways.
Global warming may be playing a role, scientists say, not just through rising temperatures, but through heavier rains that amplify runoff, erosion and flooding.
"There are a lot of things we do know," Corman said. "We know how to modify flooding, we know how to modify how much fertilizer we put on our lawns and fields. … It's just whether we have the political, social or economic will to do it."
In addition to the two dog deaths in 2004, toxic cyanobacteria made dozens of Nebraskans sick that summer at Pawnee Lake. According to a report by state regulators and University of Nebraska researchers, swimmers and skiers reported skin rashes, blisters, vomiting, headaches and diarrhea after a weekend at the lake.
With toxic outbreaks occurring routinely in Nebraska lakes, the state continues to receive reports of suspected, though unconfirmed, illnesses.
The Nebraska Regional Poison Center typically receives between four and 15 calls a year from people who suspect they've been affected by "toxic algae," according to spokeswoman Angie Pasho. The symptoms generally are upset stomach, diarrhea, flu-like illness, skin rashes and mouth blisters, she said. The center also receives calls about pets that have become sick.
The extent to which toxic cyanobacteria are making people ill is unknown because there is no mandatory reporting.
Allan Urlis of the Nebraska Department of Health and Human Services said the agency has initiated plans to better investigate potential illnesses. He encouraged people and medical providers to report suspected cases.
According to a recent federal study in which 16 states volunteered data, the CDC found that 117 people reported health effects from toxic cyanobacteria in 2021. Forty-eight dogs became ill and 18 died, according to the CDC. (Nebraska was not among the states providing data.)
Most Nebraska water bodies, including private lakes such as Buccaneer Bay and popular public reservoirs such as Omaha's Zorinsky Lake, aren't routinely tested.
In lakes that are tested, sampling may miss a problem. Blooms can move, appear and disappear quickly, or occur in one part of the lake but not another.
The state advises people to learn the signs of an outbreak.
Back in 2004, Nebraska's then Department of Environmental Quality acted quickly. Within two weeks, the state started testing lakes across Nebraska, issuing alerts when it detected harmful levels.
Even today, Nebraska's monitoring efforts remain ahead of a number of states. Some states don't proactively test, while others proactively test far fewer lakes.
Together with federal and local partners, NDEE tests about 50 public recreational lakes every week from May through September. (The state has more than 450 public lakes and ponds.) Over the years, it has tested more than 70 lakes and, at one point or another, at least 44 have tested above the level that is considered unhealthy. Water samples are tested for microcystin, the toxin released by cyanobacteria.
The outbreaks don't appear to follow a pattern; some lakes that tested high years ago have improved, while others have recently developed harmful levels. About a dozen appear to be chronically impacted, including Iron Horse Trail, Kirkman's Cove, Pawnee, Rockford, Swan Creek 5A and Willow Creek.
Renovations can help, as was the case years ago at Carter Lake in Omaha and at Fremont State Recreation Area, according to NDEE. But because lake ecologies vary, there's no one-size-fits-all solution.
Instead, legislative action tackling ag and urban runoff is critical to reducing outbreaks, experts say.
Most of Nebraska's affected lakes are in agricultural areas. And for now, voluntary measures, largely funded through taxpayer-subsidized incentives, are the main tool for reducing ag runoff.
And that can prove a long slog.
At Norfolk's Willow Creek, local, state and federal researchers concluded about 10 years ago that upstream runoff was the likely source of pollutants feeding the bacteria. The majority of the watershed that feeds Willow Creek is agricultural.
The Lower Elkhorn Natural Resources District pushed toward a solution, but grant funding only became available in the last couple of years, said Curt Becker, projects manager. That money allowed the NRD to assign a staff member to work with farmers and fund practices that lessen nutrient runoff.
"We've had some luck and we're hoping to build on that," Becker said. "Building those relationships is probably the key to getting the practices implemented. This is probably a long-term solution – it's not something that is going to happen overnight."
Farmers welcome the financial help provided by incentives but generally oppose mandates.
"I don't think the hammer works as well as the carrot," said State Sen. Tom Brandt of Plymouth, a farmer who serves on the Natural Resources Committee. Farming is expensive, he said, so the financial help is needed, and mandates would be difficult to enforce.
"Many farmers are great stewards of the land," Brandt said. "When they take care of the land, the land takes care of them."
Some in the farming community believe more needs to be done.
Fifth-generation farmer Graham Christensen in northeast Nebraska said legislative safeguards are needed to protect public health and hold industrial agriculture operations to higher standards.
Those safeguards need to be accompanied by resources – information and incentives – that enable farmers to adopt proven solutions, he said.
"In places like Nebraska, the first step is acknowledging you have a problem, and our government hasn't even gotten to that yet," he said.
Anthony Schutz, a professor of agricultural law at the University of Nebraska-Lincoln, said that while the issue is politically difficult, there are actions Nebraska could take.
Iowa, for example, has real-time, in-stream monitoring. Minnesota requires grassy strips along streams to protect them from runoff.
Lincoln resident and boater David Peters is among those who want Nebraska lawmakers to get tougher on runoff.
Millions of tax dollars have been invested in building reservoirs across Nebraska, he points out, and it's become increasingly difficult to enjoy them.
"We need to … demand that our leaders at the state and local level put the quality of life interests of 2 million Nebraskans above the property rights of a handful of landowners."
Nebraska is lucky when it comes to drinking water. Most of the state draws its drinking water from aquifers, which so far have proven immune to toxic cyanobacteria.
Only 60 miles east of the state's border, the town of Maryville, Missouri, has proposed spending millions of dollars on a new water treatment plant because toxic cyanobacteria has contaminated the reservoir it relies on.
It's not all about ag.
Problems at sandpit lakes are most often related to lakeshore conditions – homeowners who use fertilizer on lawns, outdated septic tanks or an abundance of waterfowl waste, according to the state.
That's not news to Kappas. Outbreaks have become an annual occurrence at Buccaneer Bay, he said. Kappas said he has tried in vain to persuade his neighbors to forgo their sandy beaches and green lawns.
"Nobody listens to me – they must think I'm some kind of a quack," he said. "Everyone wants to have a green yard. Well, OK fine, then you are going to suffer the consequences."
The Flatwater Free Press is Nebraska's first independent, nonprofit newsroom focused on investigations and feature stories that matter.
Copyright 2023 KOLN. All rights reserved.