UNOFFICIAL RESULTS: Voters deny school bond in special election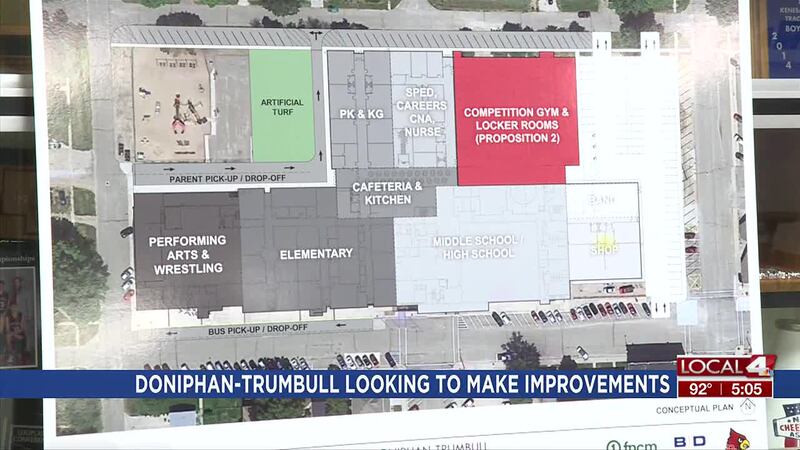 Published: Nov. 14, 2023 at 5:26 PM CST
|
Updated: Nov. 16, 2023 at 2:36 PM CST
DONIPHAN, Neb. (KSNB) - Mail-in ballots are in for a special bond election for the Doniphan-Trumbull School District, and with unofficial results now in, voters in the area are resoundingly against the bond.
Doniphan-Trumbull schools hoped to accomplish their first major building improvements in 40 years.
Proposition 1 was for additions and renovations to the entire school, which would add classrooms but not exceed $22.8 million. A total of 918 votes came back, with 531 (58.61%) against and 375 (41.39%) for the bond.
Proposition 2 would have provided a new gym and locker room, but not exceed $9.3 million. However, voters again voted against the bond. Of the 918 votes in, 610 (67.33%) were against, while only 296 (32.67%) were for the bond.
CLICK HERE TO CHECK YOUR TAX IMPACT IF PASSED
Hall County Election Commissioner Tracy Overstreet said they needed a simple majority to pass with 50 percent plus 1. However, Proposition 2 can only be enacted if Proposition 1 passed.
Ballots were mailed out to registered voters on Oct. 23 with ballots due to the Hall County Election Office by Nov. 14 at 5 p.m.
CLICK HERE TO VIEW THE FIRST FOUND OF VOTES.
If Proposition 1 passed, it would have added more than 38,000-square feet in classroom space and renovation of 40,606-square feet to allow for new, modern programming. School officials said the bond would also provide safety for kids, a healthy learning environment, more classrooms, future sustainability and potential growth and a community hub.
Specifically, the design creates a fully enclosed facility with secure entrances and better drop-off flow, updated security and communication features throughout the school. Students will no longer have to walk outside to attend classes in modulars or classes in closets.
Click here to subscribe to our KSNB Local4 daily digest and breaking news alerts delivered straight to your email inbox.
Copyright 2023 KSNB. All rights reserved.