Cooler with clouds and slim rain chances Thursday; More sunshine with up and down temperatures Friday into Saturday
Published: Nov. 16, 2023 at 8:33 AM CST
NORTH PLATTE, Neb. (KNOP) -SCOTTSBLUFF,Neb.(KNEP)- A cold front will be pushing through the area Thursday, and this will bring cooler temperatures, increased clouds and small rain chances for Thursday, with sunny skies returning Friday into Saturday.
The cold front will be sliding through the area late Thursday afternoon into Thursday evening. This front will be providing a few things in its arsenal. First thing will be the cooler temperatures, with highs in the 50s and 60s. Second is that the clouds will continue to increase during the day with some clouds producing some small rain chances, mainly in the Panhandle. Finally, breezy winds and a wind change occurring, with speeds around 10 to 20 mph, and winds switching from the southwest to northeast during the day Thursday. Overnight lows will drop very rapidly into the 20s with mainly clear conditions, and the winds dying down, with high pressure taking control quite fast.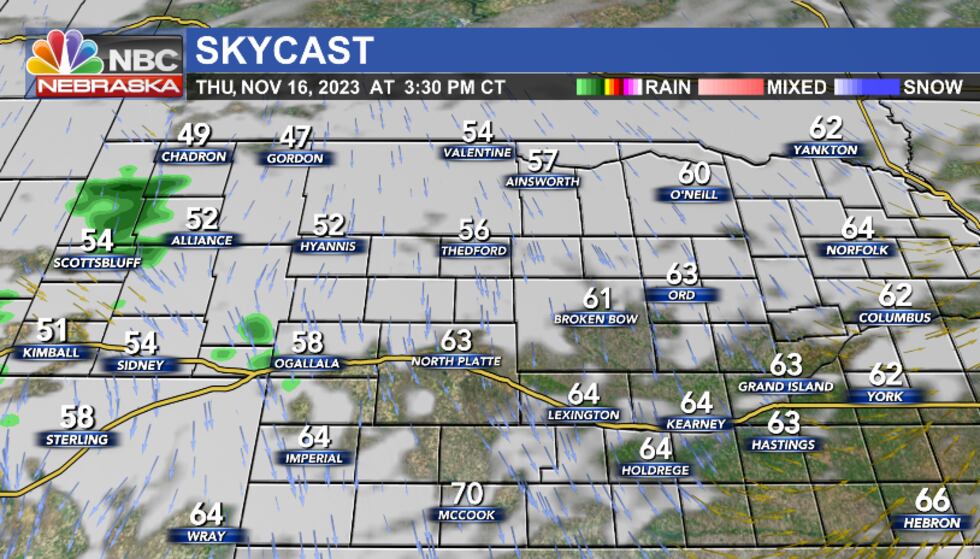 This high pressure will continue to move southeastward Friday into Saturday. This feature will bring us more sunshine and the temperatures will feel cooler Friday due to northerly flow, with values in the 50s for the most part. But on Saturday, the winds shift out of the south and this will bring milder highs, which will be in the 60s. Sunday into Monday, an area of low pressure will be moving through the area, and this will bring in rain chances and more cooler temperatures, which will drop into the 40s and 50s. Some wet snow showers are possible Sunday night into Monday, but significant snowfall is not expected.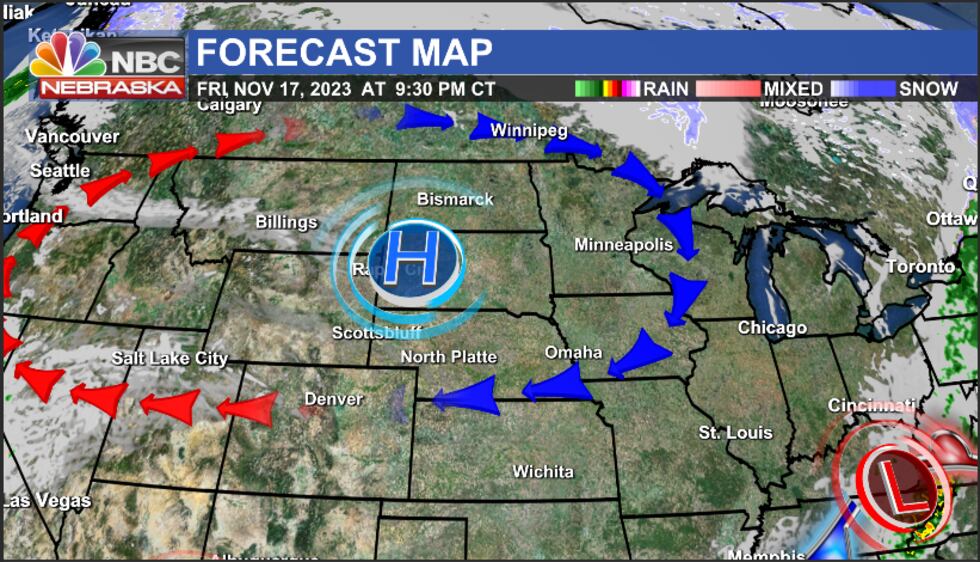 Click here to subscribe to our NBC Nebraska News 2 daily digest and breaking news alerts delivered straight to your email inbox.
Copyright 2023 KNOP. All rights reserved.