Deaf youth getting involved in farming workforce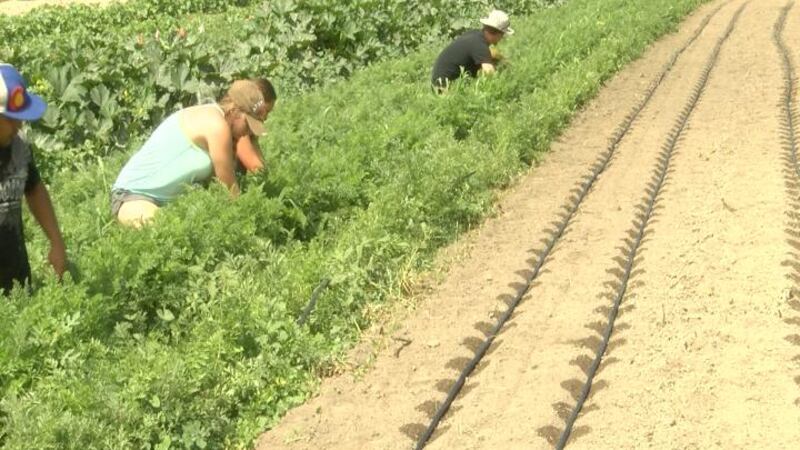 Published: Jul. 12, 2018 at 3:00 PM CDT
Transitioning into the world of work can be hard on anyone but for deaf youth, it can be even more difficult because of communication challenges and social isolation.
Members of the Trillium Deaf Program are using the month of July to learn some skills by working on a farm.
"It's really hard for deaf kids because they can't just go somewhere and learn from hearing people because they often can't communicate," explained Patricia Gans, Director of Trillium Deaf Program.
Their job is to work on the farm where every day, they start their tasks at 5:30am.
"They start out milking," said Gans. "They learn how to be with the animals, how to be quiet and observant and how to communicate with the farmer who is really open hearted in learning sign language."
Many of the members say this is their first time working on a farm and they definitely have their favorite tasks.
"I really like milking but I also like this thing that digs up the weeds," said Ismael, Member of Trillion Deaf Program. "It wheels around and cuts the weeds under the ground."
For others, their families say this would be a great opportunity for them to work and make friends.
"Well my mother wanted to have me here to learn and have an experience about being on a farm," said Jessica, Member of Trillion Deaf Program.
For many, they were born deaf but for one, it has been in her family for seven generations.
"I've grown up in a deaf world," said Alex, Family 7th Generation of Deaf. "I go to a deaf school and my man language is sign language."
Since sign language is their main method of communication, people who don't know the language find it difficult to understand and may want to give up.
"We want them not getting in the habit of being okay with not knowing what is going on," explained Gans. "That's a big one with I never know what's going on. I'm never going to know what's going on so I don't assume that I will. No, that is not enough."
For what you might consider a flaw, others consider it to be a strong trait.
"You should appreciate everybody's challenges and gifts and not just looking at the problems," explained Gans.
If you or someone you know is interested in joining the Trillium Deaf Program, you can email them at Trilliumdeafprogram@comcast.net. This program will last until the end of July.