Sex trafficking happening in Nebraska's backyard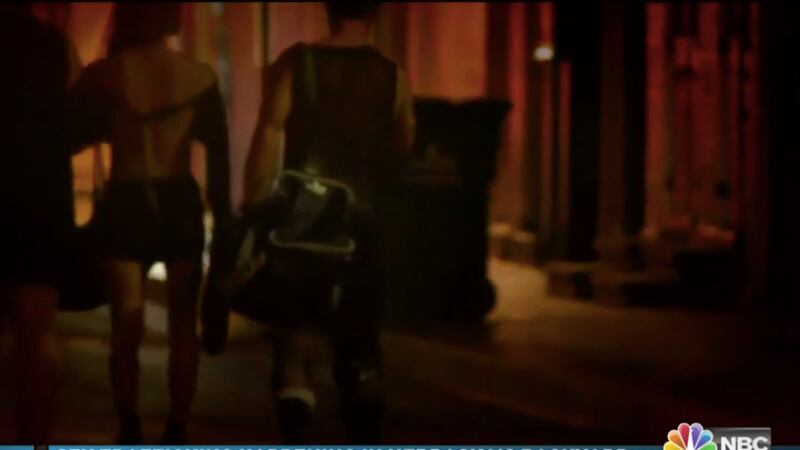 Published: May. 17, 2017 at 6:59 PM CDT
"Frankly, It's easy sex," Anne Power, Executive Director, Bridge Of Hope Child Advocacy Center, said.
Sex trafficking, it's a nationwide issue, and happening right here in Nebraska. The FBI calls it modern day slavery.
"We think about slavery, and think that ended years and years ago, but it has not," LeeAnn Nielsen, Salvation Army Fight To End Trafficking, said.
It's happening in rural areas, as well as urban.
"They do it through a merit of ways, either through abuse, exploitation, sometimes immigration, legal issues, and they use that as leverage and use it for forced labor or forced sex," Tanya Roberts-Connick, Chief Deputy County Attorney, said.
A report from Creighton University, funded by The Women's Fund of Omaha, shows every month in Nebraska, 900 people are sold for sex.
Happening even in our tiny towns, they travel wherever the business takes them.
"People think, "It cannot be happening in our tiny town", but it does. Traffickers may advertise in North Platte, but they are going to travel to where the business is," Nielsen said.
Interstate 80 acts as a pipeline, making it easy and profitable for traffickers to advertise in several areas along the interstate. "Being on i80, that really adds to the problem. It allows individuals not only in state to traffic easily, but also creates a network from state-to-state ," Nielsen said.
Many confuse prostitution with sex trafficking.
"People are being forced into doing this, or being coerced, or being threatened to participate in this type of activity," Nebraska State Patrol, Investigator Sgt., Clint Elwood said.
Tactics to trap victims vary from being tricked and lured online, to force from a family member or friend.
"They can recruit victims by using love, telling them, "I'm going to take you away, we're going to have a better life together. It can be plain force, it can be coercion or trickery, maybe they are told they are really pretty, and they have a modeling job for them. Online is a good way for traffickers to recruit victims as well. They play into people's vulnerability, people's need of wanting to be accepted, or loved, and promise them the world, we call them pretenders," Nielsen said.
All it takes is putting your trust in the wrong person for you to become a victim, and once trapped, the game changes.
"If they left something would happen to their family or someone else they cared about, that could be what is keeping them there," Elwood said.
"People that are trafficked are isolated. They don't where they are sometimes because they are just put into a vehicle and driven to a destination. Sometimes, they will be forced to use drugs and that way they are not in a sound mind. They will take them to their isolated areas where escape is virtually impossible for them," Roberts-Connick said.
"Creighton University, funded by The Women's Fund of Omaha, did a report, using Backpage.com, which is an internet hub, and 80% of the trafficking in Nebraska is advertised on the website," Nielsen said.
Advertisements are categorized under 'dating or escort services', and in ads, traffickers use their own language to disclose details like age.
"Younger individuals are sold for more money and in Nebraska 14-17 is a popular age for a victim," Nielsen said.
"We don't just patrol the interstate, we patrol the internet too. We are out there proactively searching for criminal activity and coming up with a plan of how to approach that and put together a criminal case to prosecute," Elwood said.
And big events, increase the demand, therefore increase the supply.
"It could be the Balloon Festival in Scottsbluff, or the Eclipse Viewing that is taking place and bringing in people. It's a money maker and they are looking for the market of where they are going to find buyers," Nielsen said.
It doesn't just happen off the interstate, but at motels and parking lots too. "One time we did recover a victim from a Walmart parking lot," Powers said.
So what's being done to tackle this widespread issue?
A billion dollar, money-making industry, that's hard to crack down, but now, a new statewide, and community based, push to combat sex trafficking.
"Just people in general, they shouldn't be sold, they aren't property, they are people," Roberts-Connick said.
"This is something that is very detrimental to families of all socioeconomic backgrounds, whether you're upper class, middle class lower class, it affects us all," Elwood said.
Now, a new push from The Salvation Army and Nebraska Attorney General's Office.
A grant from the U.S. Department of Justice pays for SAFE-T, the Salvation Army's Fight to End Human Trafficking program.
The funds created human trafficking task forces across the Cornhusker State. Nielsen is one of the specialists and covers 34 counties in Nebraska. "There are 3 of us that work for Salvation Army that offer services across the state," Nielsen explained.
The new community based initiative tries to reduce the demand and supply for commercial sex as well as offer victim services.
"This is a joint task force. It has members of the law enforcement community, members of my office, the legal capacity, anybody that you would need to help either recover and assist trafficking victims so they can be safe again and move forward with their lives, or the prosecution of it," Roberts-Connick said.
But it's not just organizations and agencies combating the issue.
"Most of the time, the sex trafficking cases we've uncovered they come from two ways, the first is people from internal investigations, and then the second are people just seeing something that you know isn't normal and calling in," Power said.
The public is helping to crack cases too.
"The public are our eyes and ears, they are where we can't be. We can't see all violations, all the time. We can't be everywhere all the time. A lot of the criminal cases we generate are from the assistance of the public calling in," Elwood said.
Being aware of this type of activity, and knowing some of the red flags, can help to expose traffickers.
"Awareness for citizens, awareness law enforcement, service providers, it's a community fight, that is the only way to do it," Nielsen said.
- The big thing, is that sense of control over another person
- Victims will be timid, they are told not to make eye contact with others
- If there is someone, who is not a family member, doing all of the speaking for an individual, or individuals
- Victims may not be dressed appropriately
- May look malnourished
"As much information as you provide to help us identify these individuals will help us build a case if criminal activity is afoot. If you have any suspicious, call. It might not be legit, but it just might be, and you do no harm by calling. If it doesn't look right and feel right, call," Elwood said.
If you are suspicious, take down a license plate number, get a good description of the people, but do not approach them, they can be extremely dangerous.
Prosecutions for these crimes can be difficult for a number of reasons.
"What we know, and what we can prove or two different things," Elwood said.
"You have victims that have been traumatized and that is difficult to ask them to relive what they went through and testify," Roberts-Connick said.
Right now, Nebraska lawmakers are working to pass a bill that would raise penalties, increasing prison time for those who buy and sell commercial sex.
All agencies and organizations involved trying to send a loud message to those purchasing and to traffickers.
"What we will do, is we will do our best every time we become aware of an incident. We will investigate and find the people responsible and make sure we do our best that they are held accountable and prosecuted," Elwood said.
24 Hour Human Trafficking Hotline
1-888-373-7888
You may also text "HELP" to 233722 (or BeFree) to reach the hotline.
The hotline provides for over 200 languages; call or text.
In the case of an emergency, please call 911 immediately.
Please call the hotline below and ask to speak to a specialist in Nebraska if you:
See something you suspect is human trafficking
Feel Trapped
Are under the control of someone else
Want to leave but cannot
About HTI Study:
The Human Trafficking Initiative (HTI) is supported by the Women's Fund of Omaha and funded by The Sherwood Foundation. The research of HTI is conducted through the Heider College of Business at Creighton University.
HTI uses data science to collect, analyze and evaluate the scope of sex trafficking across the United States and to identify effective policy solutions. The research initiative is directed by Crysta N. Price.