Tony Weekly sentenced to jail time and probation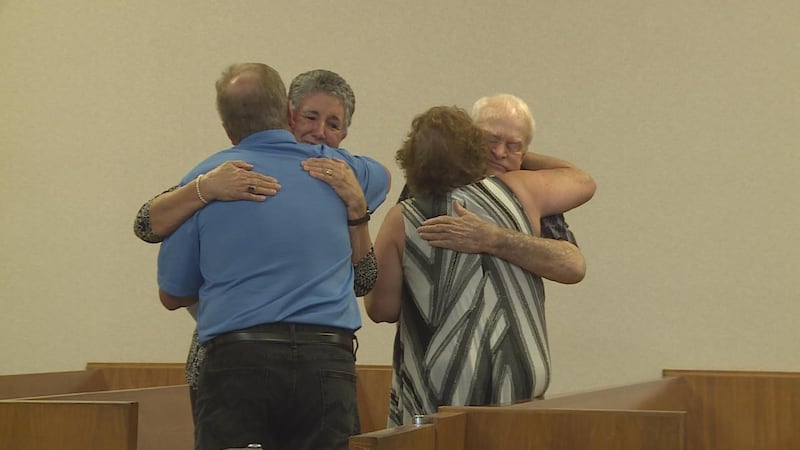 Published: Jul. 20, 2018 at 4:05 PM CDT
A judge showed leniency to a Florida truck driver Friday because the families of the six people killed asked him to. Friday Judge Richard Birch sentenced Tony Weekly.
Weekly had plead no contest to seven charges, six of them are motor vehicle homicide charges. He gets 30 days in jail on each motor vehicle charge for a total of 180 days. He gets credit for his time already spent in jail. Weekly also gets 24 months probation and has to complete a victims impact panel and is set to pay a $100 fine for the reckless driving conviction.
Tony Weekly was the driver of a semi that caused a crash that killed six people on I-80 in July 2016 in Ogallala.
A member of the Pals family testified in court Friday afternoon, asking for a lighter sentence for Weekly.
In July 2016, Weekly was driving a semi headed through a construction zone on I-80 in Ogallala that crashed into the back of a minivan carrying Jamison & Kathryne, plus their three children. The impact caused a chain reaction hitting several cars causing an additional fatality of Terry Sullivan.
Both the Pals and Sullivan families were present in the courtroom Friday to hear the sentencing.
"I will never again hear Jamison say, 'I love you dad'," said Cedrick Pals, father of a victim.
Cedrick Pals is the dad to victim Jamison Pals, father-in-law to Kathryne and grandfather to the three children in the van.
Cedrick prepared a statement that said they have chosen forgiveness.
"I can honestly say Tony, both families have forgiven you," said Pals, "I know how much God has forgiven me, how could I not forgive you?"
Weekly prepared a statement for the court and the family telling them that there is not a day that goes by he doesn't think about the day of the crash.
"If there was anything I could do to stop that accident two years ago from happening, I would do it. I wake up everyday and I think about Jamison, Kathryne, Ezra, Violet, Calvin and Mr. Sullivan," said Weekly.
Kathy Pals said they are okay with the courts' decision saying, "Really nothing is fair, but I think that suffering with the thought that you killed six people is enough."
At the end of his address, Cedrick Pals said, "Grief is real, but it is temporary. Hope is just as real and it's eternal. Thank you for allowing me to speak. I leave you with these three words: forgiveness, mercy hope."
Weekly is to report to the Keith County Jail on August 3rd for his incarceration.